Upwork: Connecting Freelancers to Gigs On-Demand
Upwork connects freelancers with remote work on-demand. As a two-sided platform, Upwork built and scaled both its freelancer and employer client base. With indirect network effects, this platform captures value by serving as a connector, facilitating matching, communication, and payment.
As an independent freelancer, one of the toughest parts of your everyday is securing gigs– but, with platforms like Upwork, freelancers are now able to easily find remote jobs on demand with one central hub attracting temporary workers with potential employers.  Merged from Elance and oDesk, Upwork was introduced in 2015 with the vision of "connect[ing] businesses with great talent faster than ever before" [1]. With over 12 million registered freelancers and over 5 million registered clients, Upwork facilitates over $1B of work on an annual basis with 3 million jobs posted per year [2].
What is Upwork? [2]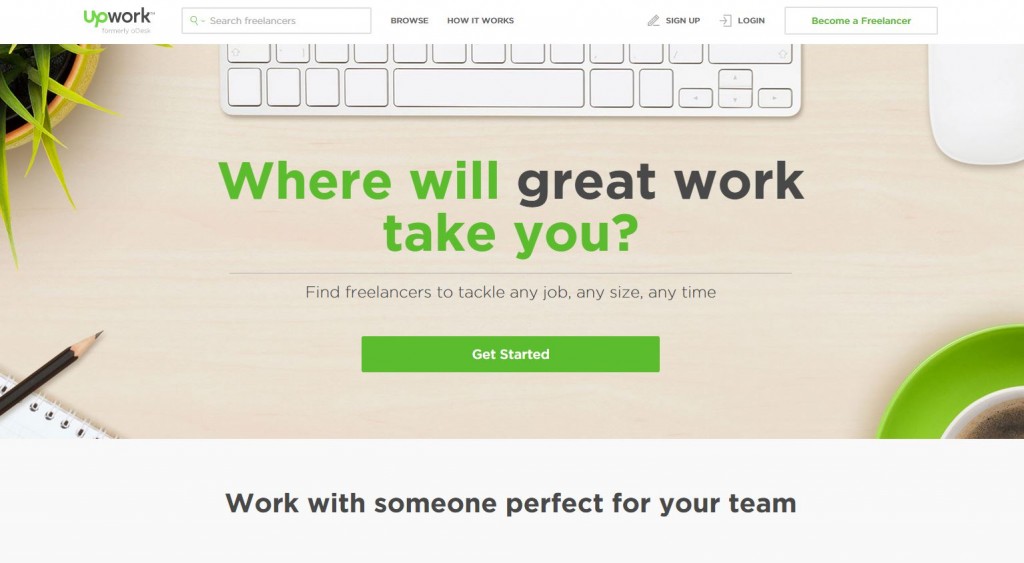 Upwork is a two-sided marketplace, connecting freelancers with short-term work. The two parties on this platform include:
(1) Freelancers searching for short-term work (typically a one-time gig). These individuals include: Web/mobile developers, designers/creatives, writers, sales and marketing experts, accountants, consultants, customer service agents, etc.
(2) Employers looking for a job to be done. These employers may include standalone businesses or individual consultants. Upwork's clients include: AirBnB, Zendesk, Juniper Networks, Dropbox, and Instapage.
From an employer's perspective, when logging onto Upwork, you would post your job, get matched with potential freelancers, browse/interview potential matches, and hire your top pick. Upwork then serves as a communication platform between you and your freelancer and also ultimately handles the financial transactions.
How does Upwork capture value?
In May 2016, Upwork introduced a 'sliding service fee,' ranging from 5-20%, a change from the previously flat 10% rate [3]. This change represents the power Upwork has as a platform to grab more of the pie. A longer-term questions remains: How far can Upwork go longer-term in raising its prices yet still retaining its freelancers?
In addition to taking a cut of the freelancers' pay, Upwork generates revenue by offering three tiers for their employers including Basic, Pro, and Enterprise. These different versions offer improved features related to pre-vetting of freelancers, account management services, and tailored onboarding / payment options. Upwork also charges a payment processing fee. By serving as a medium for all communication, Upwork is able to retain its status as a platform.
What are the challenges of scaling a freelancer platform like Upwork?
The primary challenge for companies like Upwork is balancing demand and supply on these two sides of the marketplace. In the early days of oDesk (the larger of the two companies in the merger), the leadership team decided to open up the market to any client and any freelancer, soon finding that the lack of a vetting process led to haphazard results. By being a middleman platform without having control over the ultimate outcome, oDesk ultimately incorporated checks and balances into the system such as adding a double blind rating system to filter for the best freelancers [4].
oDesk's strategy ultimately first focused on building the employer client side of its platform (paying to acquire employers), finding that freelancers flock toward the platform with the most jobs. While two-sided platforms often struggle to build out one side without the other, oDesk was able to successfully grow both sides, further expanding its platform after merging with Elance [4].
There are clear indirect network effects in a platform like Upwork's, where the more freelancers there are, the better the experience is for employers and vice versa [5]. Ultimately, there are more options for both sides and with increased usage, more ratings enable filtering of the best freelancers and employers.
Sources
[1] https://www.upwork.com/blog/2015/05/odesk-is-now-upwork/
[2] https://www.upwork.com
[3] https://www.ft.com/content/8273edfe-2c9f-11e6-a18d-a96ab29e3c95
[4] https://mixergy.com/interviews/gary-swart-odesk-interview/
[5] https://hbr.org/2016/04/network-effects-arent-enough