Clear Labs: Unwrapping Food Products Through Data and Genomics
The "Google of food" meets DNA testing: through data collection, analytics, and genomics, Clear Labs is trying to create more visibility into our food's makeup.
Introduction:
Did you know that your black bean burger may contain no beans?[1] Or that your turkey hot dog could contain pork?[2] As a consumer, it is horrifying to know that we may not be able to trust food labels; or worse, that foods may actually make us sick. Using a combination of big data, analytics, and genomics, the food technology startup Clear Labs (which has raised $20M) is trying to de-mystify the makeup of food.
The "Google of Food" [3]
Clear Labs' greatest asset, the core that powers its business offerings, is its proprietary data set. The company spent two years collecting food samples using next-generation genomic sequencing (NGS) to screen for a variety of characteristics, including authenticity, contamination, gluten, toxic fungi or plants, allergens, the presence of GMOs, and nutritional content. It then indexes these results, along with publicly available data, in a cloud-based platform – according to the company, this is "the world's largest database of food genetic markers", with over two million entries and growing.[4] Information on specific products, suppliers, and ingredients are stored as well. The use of NGS is new as it relates to food specifically. However, Clear Labs' edge is the volume of proprietary data it has collected and the analytical horsepower of its database. With this highly detailed information, the company can perform unique analysis, such as identifying trends around illness outbreaks or connections between ingredients and suppliers.[5]
The Business Model
An analytics platform ("Clear View") for manufacturers and retailers provides insight into the genetic makeup of food in their supply chain, flags anomalies or issues, and compares products against industry benchmarks.
At the same time, retailers or manufacturers can send the company product samples to be tested. The lab technicians break down the food into its component DNA "barcodes" and compare them to barcodes in the company's database. Once a match is found, Clear Labs can identify exactly what is – or is not – in the product.[6]
Traditional chemical or GMO testing can be expensive, only test for one attribute at a time, and are time consuming.[7][8] In contrast, NGS-based testing is less expensive, screens for multiple characteristics in parallel in each test, and is much faster. [9] There do not appear to be direct competitors that are using NGS technology specifically for food.
Value Creation:
For manufacturers, Clear Labs provides insights into product ingredients and the supply chain that can save money, increase consumer trust, and even lead to product line innovation. By identifying issues early, companies can avoid costly recalls and minimize the risk of mislabeling and fraud.
For distributors and retailers, Clear Labs' insights can save both money and time spent pulling items in the case of product recalls. They can select the best suppliers and identify marketplace gaps.
Although not direct customers, with widespread adoption by retailers/manufacturers, consumers can have more confidence in the authenticity and accuracy of their food products and experience safer food consumption.[10]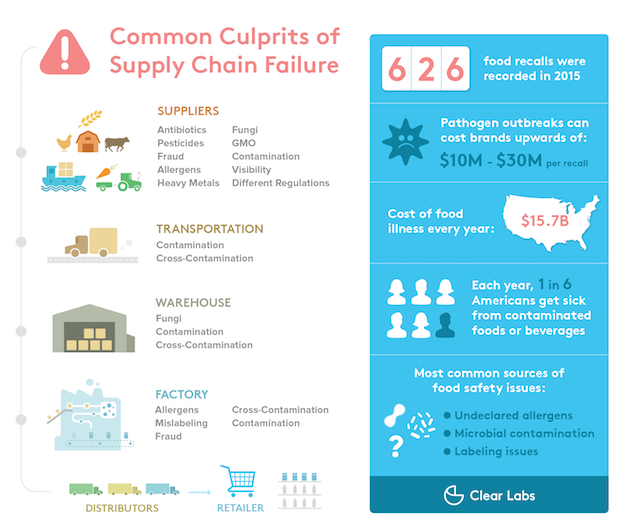 Value Capture:
The company's revenue model is opaque, but it appears to charge clients for a) sample testing (in a tiered structure based on volume of tests)[11] and b) a subscription for access to its software that could cost "in the low six figures".[12]
Challenges
Questions around the company's usage of its data have surfaced in response to company-generated reports that made a splash with their sensational headlines. The company ran three studies investigating the genetic makeup of burgers, hot dogs, and turkey that were purchased in supermarkets and fast food restaurants. The findings were sensational – evidence of human DNA and rat feces? Bogus protein and calorie information?
The company did not release the names of the offending companies, stating that they do not want to be whistleblowers.[13] Yet critics argued that this data should be available for those that the company is trying to, ultimately, protect: the consumer.[14] This leads to the interesting question of to what extent a company with a proprietary, rich data supply has a responsibility to share that information with consumers and regulatory bodies (beyond obvious safety hazards). However, for Clear Labs, to share this data could erode value capture.
Furthermore, while industry adoption numbers are not public, I question the extent to which food manufacturers and suppliers want to know the exact makeup of their food products beyond basic safety information – especially since public pressure would not force them to change their practices. Technology adoption would require, presumably, large budgets, buy-in, and behavior change. To take action based on Clear View's analytics – changing a supplier, modifying a product line – would be a major undertaking.
[1] https://www.clearlabs.com/reports/the-hamburger-report
[2] https://www.clearlabs.com/food_reports/2015/the_hotdog_report
[3] https://techcrunch.com/2015/09/15/clear-labs-aims-to-be-google-search-for-gmos-in-our-packaged-food/
[4] http://www.fooddive.com/news/what-a-closer-look-at-the-food-supplys-dna-could-mean/405680/
[5] https://www.clearlabs.com/product
[6] https://www.wired.com/2015/09/company-using-dna-sniff-contaminated-food/
[7] http://www.takepart.com/article/2015/09/17/dna-sequencing-food-testing
[8] https://techcrunch.com/2015/09/15/clear-labs-aims-to-be-google-search-for-gmos-in-our-packaged-food/
[9] https://foodtechconnect.com/2016/05/23/dna-sequencing-big-data-food-recalls-safety-clear-labs/
[10] https://foodtechconnect.com/2016/05/23/dna-sequencing-big-data-food-recalls-safety-clear-labs/
[11] https://foodsafetytech.com/news_article/next-generation-sequencing-targets-gmos/
[12] http://www.takepart.com/article/2015/09/17/dna-sequencing-food-testing
[13] https://www.nytimes.com/2015/11/06/nytnow/no-hot-dogs-do-not-contain-human-meat.html?_r=0
[14] http://www.takepart.com/article/2015/09/17/dna-sequencing-food-testing