Will Typhoons in Southeast Asia Stop You from Staying Hydrated This Summer?
Climate change is increasing the severity of typhoons in Southeast Asia — what does this mean for PepsiCo. as it looks to capitalize on exponential growth in the coconut water product category?
With the demand for coconut water skyrocketing — U.S. sales grew 350% 2011-2017 by volume — large beverage companies are looking to capitalize on this growth. [3] Analysts expect the $2.5bn coconut water market to exceed $5bn in global sales by 2021. PepsiCo.'s potential acquisition of Vita Coco, which represents ~25% of total global coconut water sales, for $1bn would make it the leader in the category, adding to the O.N.E Coconut Water, Kero-coco, and Tropicana labels that it owns today. [4,5]
This is the latest move in PepsiCo.'s diversification away from its traditional soft and sport drinks strategy, capitalizing on health-conscious consumer preferences. [3] With its prior acquisitions of O.N.E. Coconut Water and Naked — a producer of juices and smoothies — PepsiCo. was forced to rethink its supply chain operations to deal with increased complexity. Naked and coconut water are manufactured in geographically diverse areas increasing lead time and variability of supply due to dependence on natural ingredients. [1] Unlike the traditional soft drink supply chain, the coconut supply chain is global versus regional in nature — growers are in Indonesia and the Philippines; co-packers are in Asia; and products are sold mostly in the U.S. These healthy beverages typically need to be transported in cold environments and have a shorter shelf life. [2] The impacts of climate change, which include increasing severity of typhoons in Southeast Asia, complicate the already more complex supply chain management in the natural health drink category. [1,2]
Typhoon Haiyan in Eastern Philliphines Destroyed Coconut Farms and Livelihoods
Source: http://newsok.com/article/feed/621469
PepsiCo. has responded to this complexity by developing a supply chain resiliency program for coconut water to recover from disruptions quickly. As part this program, PepsiCo. carries higher inventory to prevent against stock outs and has implemented a seasonal inventory strategy. [1] An inventory buffer of 20 weeks is used based on supply chain leads times for production, testing, transportation, and redistribution. Maintaining higher inventory levels is costly — PepsiCo. attempts to minimize these costs by using historical data to strike the right balance of avoiding stock outs and reducing product expirations from overstocking. Copackers are the critical capacity bottleneck in coconut water production. To avoid disruption, PepsiCo. uses three copackers in Southeast Asia, all located far enough apart so that they are not impacted by the same typhoons. The company also has copackers in the U.S. that provide backup capacity and can be used, although at a higher cost, if shorter lead times are needed. Close partnerships with copackers create an early warning mechanism for disruptions and enhance the quality of the data exchange. Further complicating supply chain management, demand for coconut water is seasonal and higher in summer months as consumers turn to coconut water for hydration. PepsiCo has created a system of buffers around stock, capacity, and lead-time for higher demand months and begins its inventory prebuild for the peak summer season before the normal 20-week lead time to account for typhoon season. [2] As the Company scales up its coconut water business, the need to refine these programs to avoid stock outs, minimize costs, and reduce exposure to any one supplier increases.
Despite its best efforts, disruptions are not avoidable and PepsiCo. should use marketing to protect itself during stock outs and potential price spikes. Health conscious consumers generally also care more about sustainability. [2] For PepsiCo.'s Naked label, square recycled bottles are more efficient to ship, bottling facilities and offices are LEED certified, and fleet vehicles have been replaced to be more fuel efficient. [1] PepsiCo. should increase its use of sustainability metrics on its packaging and overall marketing to drive brand equity. However, brand equity only goes so far. The company should continue to use both historical data and predictive demand analytics to refine its inventory model. PepsiCo. should adopt a hedging strategy involving crops grown in the same region as coconuts that have a more liquid futures market. For example, if the price of rice spikes during a typhoon because of supply shortage, PepsiCo. should long rice futures during typhoon season. In the event of a typhoon, rising input costs in its core business will be offset by an appreciation in rice futures, avoiding the need to pass costs on to consumers. PepsiCo. should also consider expanding its current list of growers and copackers within the regions it currently operates to diversify risk and develop partnerships with growers and copackers in other regions closer to the U.S. (e.g., Central and South America) where coconuts grow well.
Coconut Water Packaging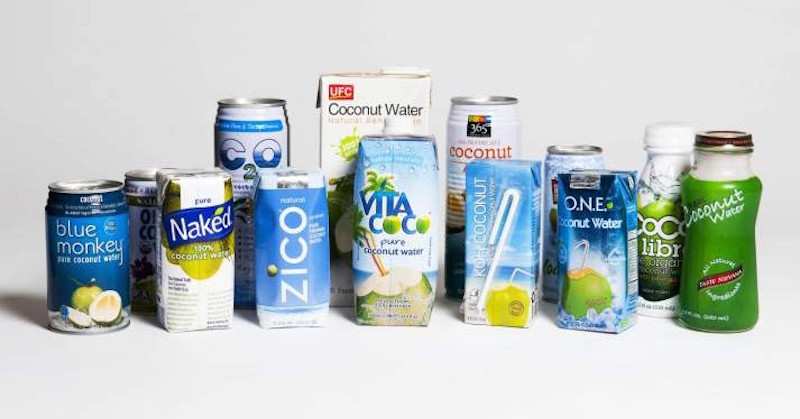 Source: https://juicing-for-health.com/22-coconut-water-brands-reviewed-healthiest-avoid
In an increasingly global world that is increasingly impacted by disruptions due to climate change, how do companies balance the efficiencies gained through supply chain consolidation (e.g., increased purchasing power, streamlined transportation/logistics, and improved quality control) with the benefits of diversification? What role can brand equity play in consumer's tolerance to stock outs and price increases, especially in healthier product categories that are potentially more sensitive to supply chain disruptions?
(798 words)
Sources:
Technology, M. (2016). A Fresh Take on Supply Chain Innovation. [online] MIT Sloan Management Review. Available at: http://sloanreview.mit.edu/article/a-fresh-take-on-supply-chain-innovation/ [Accessed 12 Nov. 2017].
Banker, S. (2016). PepsiCo's Practical Application Of Supply Chain Resilience Strategies. [online] Forbes.com. Available at: https://www.forbes.com/sites/stevebanker/2016/10/01/pepsicos-practical-application-of-supply-chain-resilience-strategies/#7121d6df6293 [Accessed 15 Nov. 2017].
Purdy, C. (2017). Coconut water is the latest battleground between Pepsi and Coca-Cola. [online] Quartz. Available at: https://qz.com/1001599/pepsico-pep-wants-to-acquire-vita-coco-coconut-water-to-compete-with-coca-cola-ko/ [Accessed 13 Nov. 2017].
com. (2017). How PepsiCo Can Benefit From Acquiring Vita Coco. [online] Available at: https://www.forbes.com/sites/greatspeculations/2017/06/01/how-pepsico-can-benefit-from-acquiring-vita-coco/#19b614d85651 [Accessed 13 Nov. 2017].
Avery, B. (2017). Analysts: A PepsiCo/Vita Coco Deal Would Reshape Coconut Category. [online] BevNET.com. Available at: https://www.bevnet.com/news/2017/analysts-pepsicovita-coco-deal-reshape-coconut-category [Accessed 14 Nov. 2017].