Online-to-Offline (O2O) and the Future of e-Commerce
Imagine a day in your life:
You started the day off reading some in-app news before you got off bed, you liked an article on trends in pet grooming business, it reminds you of your dirty corgi that needs a shower. You booked an appointment with the app for a local pet cleaner to come to your house later. The cleaner showed up in an hour, washed and styled your corgis and you are satisfied with the service. You paid him through the app, reviewed his service and shared it to your profile page on the app. Your friend Jamie saw your post and sent you a quick voice message through the app, also asking you out for lunch. You then looked up nearby restaurant from the app, made reservation, browsed online menu and ordered dishes using the app. You requested a ride share via the app, met Jamie at the restaurant, both of you had already ordered through the app, so you two scanned the QR code at the restaurant table, and waited for food to be brought to your table…
Now, imagine doing everything above with one single app.
Concerning or not that more and more Chinese live their life without the need to leave THE app–exactly what the tech giant Tencent marching towards with WeChat, its one stop shop social platform app.
The O2O Business Model in world of digitization
Commonly seen in developing countries, more and more people are connected to internet through mobile phones than PCs. A report by CNNIC indicates that 71.5% of the 688m Chinese internet users accessed the internet via their mobile phones at end-2015, while those using PCs declined from 51.6% to 39.2% for desktop,  from 13.2% to 7.5% for laptop, respectively [1].  The growing mobile internet users have boosted rapid development of mobile platform applications. Wechat, with over 700 million monthly active users developed by Tencent in China, is growing with the upward trend and tapping into new grounds of O2O e-commerce.
E-commerce business models are categorized as B2B, B2C, C2C and C2B by the parties involved in the transaction. With digitization diffusing into offline businesses , studies have explored a new set of categories that differentiate business models not only by "who is involved in the transaction" but "how business is done"– transaction behavior and process. By doing so, a new business model — online to offline (O2O) is becoming a growing segment, in addition to traditional online or offline only models.[2]
What drives the growth of O2O model is the increasing in demand in connecting software platform to physical brick and mortar businesses that are providing actual services. In an offline only business model, customers discover goods and services in physical storefront, where they make subsequent purchase decision and complete actual transactions. While an O2O model moves the discovery process online, providing consumers with a much wider selection pool that is often limited in physical world, often expose them to new purchasing intent. Following the online discovery process, it then use "software bridge" to connect consumer with physical service providers.
Besides providing customers with more flexibility and choices, there is additional value O2O model brings to the Chinese market. The lack of credit system, for example, most Chinese don't have credit cards, and O2O model allowing them to pay on delivery of goods or services. With everyone on their smartphone all the time and with mobile payment system connecting directly to personal bank accounts, it basically leapfrogged credit cards, as indicated by percent internet users who has made mobile payments online.
Operating Model of WeChat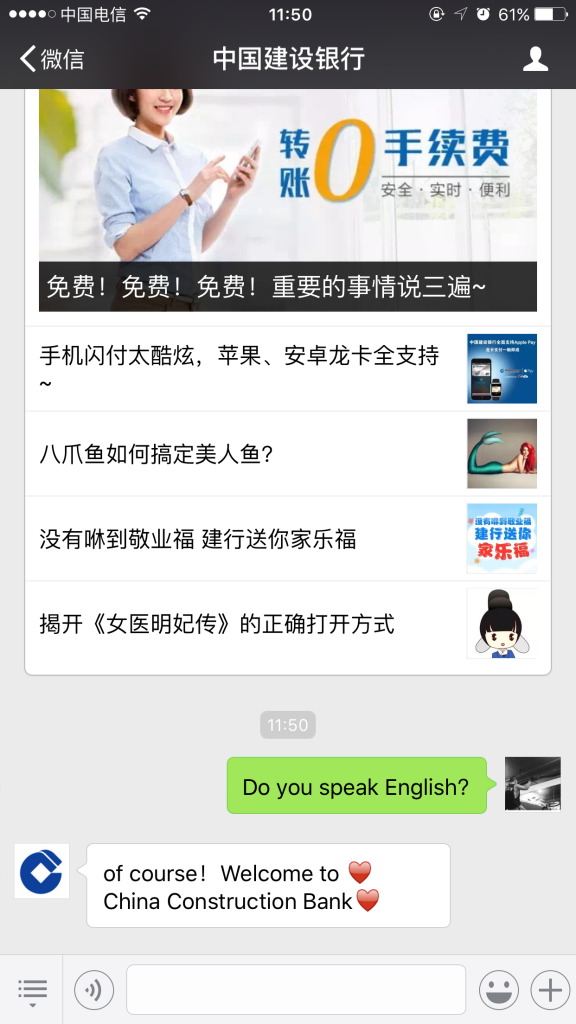 Wechat is taking the lead in coming up with new ways to bridge online and offline.  Its operating model is shaped by the goal of creating a single app that serves as many functions as possible, which is very different from what tech firms in the United States adopts that emphasize simplicity in their apps. To achieve its goal, Tencent has opened up WeChat to other companies, allowing them to create apps nested within WeChat. Ebaoyang — a start-up that enables people to order oil changes for their cars directly on smartphones — was at first almost totally reliant on WeChat to attract business.[3]A list of such "in-app" app span across all aspects of daily life of a consumer. To build trust between customers and merchants and facilitate purchase deal selection and closing process, WeChat utilized  its core function–voice based instant messenger. For example, before booking an appointment with a doctor, people can text or voice chat with the office staff to have any pre-visit questions answered. Most businesses such as banks and insurance companies have WeChat account to interact with customers, more frequently and more closely, in order to improve on service.
Conclusion
With digitization enabling more and better ways to create values to both businesses and consumers. WeChat has become a game-changer in China: it has evolved into a multi-platform tool for marketing/eCommerce use, and it's proved to be an effective way for business to build an O2O model and pull the customers closer.
(842 words)
[1] Country Commerce Report-China, The Economist Intelligence Unit , New York, February 2016
[2] Wang, Chu-Ching, et all, "Trade-Off Among Online, Offline, and Online-to-Offline Business Models: A Perspective Based on the Four Ps of Product Characteristics",International Journal of Electronics Communication and Computer Engineering, Volume 7, Issue 4, ISSN (Online): 2249–071X
[3] Paul Mozur, "China, Not Silicon Valley, Is Cutting Edge in Mobile Tech", The New York Times, AUG. 2, 2016