Digitizing the Diabetes Prevention Program
Omada Health has successfully digitized a clinically proven lifestyle intervention program that could prevent 86M Americans from developing Type 2 diabetes.
In 2002, the NEJM published the results of a 16-week Diabetes Prevention Program (DPP) demonstrating prediabetics who achieved a weight loss of 5-7% could reduce their risk of developing Type 2 diabetes by 58%[i]. CDC estimates there are 86 million prediabetics in the US.
Why this matters
If there is no medical or lifestyle intervention, 15% to 30% prediabetics will develop Type 2 diabetes within 5 years[ii]. Type 2 diabetes is a chronic condition that is currently irreversible. The body decreases insulin production and becomes insulin resistant, which results in glucose buildup. It gets worse – diabetes is the main cause of kidney failure, limb amputation, and new-onset blindness[iii]. Additionally, diabetics are 2-4 times more likely to die from comorbidities such as cardiovascular disease. Despite only about 18 million people diagnosed with diabetes, diabetic patients account for more than 20% of healthcare spending[iv]. The good news is that the DPP is an effective lifestyle intervention program that can help curb this trend. Medicare estimates each enrollee can help the healthcare system save on average $2,650 over a 15-month period[v].
Going digital
Traditional programs are administered through community centers like YMCA, but as of September 2016, only 48,269 individuals have participated in at least one of sixteen sessions[vi]. This brick-and-mortar approach to distributing DPP is clearly not efficient or scalable.
Omada Health has digitized the DPP, delivering the 16-week program through online and mobile mediums. By using technology to broaden reach, Omada Health has already worked with over 45,000 individuals in under 5 years[vii].  Their program has proven clinical efficacy with participants losing nearly double the weight of those using in-person DPPs[viii].
Value-based payment models
What makes Omada Health unique is that they have adopted a value-based business model only making money when individual participants successfully complete the 16-week program and achieve at least 5% weight loss. In other words, payors, including Medicare, only reimburse Omada Health based on achievement milestones (e.g., enrolling, completing the program, achieving 5% weight loss).
This beautifully aligns incentives of all stakeholders: payors and self-insured employers are happy to work with Omada Health to enroll member lives because there's no downside risk; individual participants with insurance coverage don't have to pay out-of-pocket; and Omada Health is motivated to ensure that participants achieve that weight loss goal. The key to the business model is the ability to deliver results, and Omada Health has constructed an operating model to reflect this goal.
Operating to execute
Behavior change is at the core of this lifestyle intervention program, which makes continuous engagement key to the defensibility of this business model. Technology has enabled 24/7 connectivity and personalization to facilitate engagement:
Online and mobile: Participants are paired with an online coach and a peer support group. They can interact and message coaches and peers anytime, anywhere. This virtual connectivity enables prediabetics to participate without physically driving to a YMCA center. Additionally, health curriculum is distributed online to tailor to individual educational needs.
IoT gadgets: Bluetooth connected scales and pedometers are mailed to individuals so that Omada can accurately track progress with little to no extra effort. To monitor food tracking, individuals simply upload photos of their meals to share with their coaches. This data is extremely important as a "source of truth" to help coaches verify rather than just relying on self-reported results.
Real-time data analytics: The ability to collect feedback data in real-time to know whether an intervention worked is extremely valuable. For instance, if an online coach sees that someone is taking less than 10,000 steps a day, they can send an extra message to encourage him to exercise more. Omada can then track and see if a particular message type was effective in helping convince the participant to increase physical activity via data from the pedometer.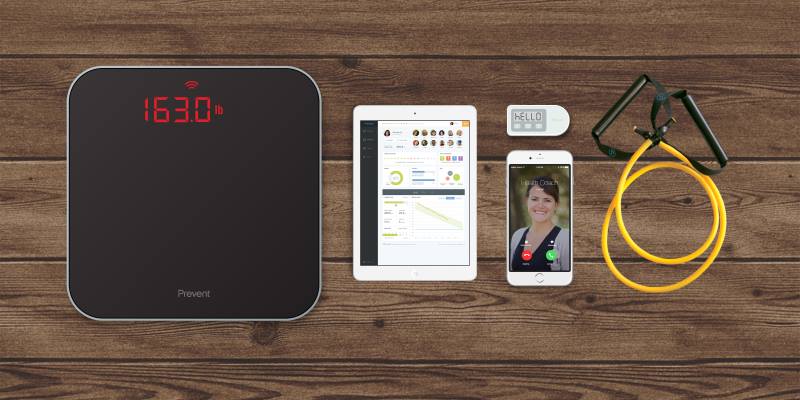 Moving forward
The digitization of DPP represents an exciting opportunity to not only massively expand accessibility but also improve convenience. Behavior change is personal and what works once may not work again, so it'll be important to have a constant feedback loop of data and outcomes. To ensure better outcomes, Omada Health could use additional wireless sensors, such as heart rate monitors, to collect more data. With more data, they can continue to iterate their predictive algorithms to understand if there are leading indicators of success and what types of interventions are most effective for specific participant sub-segments. Omada Health has begun to take their "secret sauce" of engagement to other chronic diseases (e.g., chronic heart failure, high blood pressure) where lifestyle interventions are also key to achieving clinically meaningful outcomes and reducing overall healthcare spend.
Word count: 764
[i] https://www.niddk.nih.gov/about-niddk/research-areas/diabetes/diabetes-prevention-program-dpp/Pages/default.aspx
[ii] https://www.cdc.gov/diabetes/prevention/prediabetes-type2/index.html
[iii] http://www.cdc.gov/chronicdisease/resources/publications/aag/diabetes.htm
[iv] https://www.cdc.gov/diabetes/pubs/pdf/ndfs_2011.pdf
[v] http://www.commonwealthfund.org/publications/newsletters/washington-health-policy-in-review/2016/mar/march-28-2016/burwell-announces-expansion-of-diabetes-prevention-program
[vi] https://www.ymcapkc.org/programs-classes/healthy-lifestyles/diabetesprevention/
[vii] http://www.mobihealthnews.com/content/medicare-reimburse-diabetes-prevention-program-including-omadas-digital-version
[viii] https://www.omadahealth.com/outcomes