China Goes Green
A Chinese state owned enterprise in power production has a government mandate to clean its energy mix following years of air and water pollution, how well is it executing?
In March of 2016, the National People's Congress (NPC) of China ratified the 13th Five-Year Plan establishing national goals for economic and social development for 2016-2020. One of the six pillars of the plan is Green Growth, which has significant implications for the China Datang Corporation (CDT), one of five State Owned Enterprises (SEO's) in the country responsible for electricity production and operating in the Southern regions of the country1. The Green Growth initiative looks to achieve two things – curb rampant air and water pollution which has taken place in the country as a result of increased coal consumption to keep up with economic development and meet China's international commitment to peak its carbon emissions by 2030 as agreed upon in the Paris Climate Agreement.
In it's 13th plan, China announced investment of $373.1 billion investment in clean energy infrastructure, largely in wind and solar to coincide with shuttering dirtier sources of energy1. The net goal of the plan is to reduce China's CO2 emissions per unit of GDP by 18%1. Given the structure of the Chinese economy and CDT's role as an SEO, management is mandated to execute the goals of the announced Five-Year Plan, which will have significant implications for how the company sources and executes development of energy production projects in the country. The CDT serves major industrial regions of Fujian, which has experienced 19.7% electricity growth in the first 9 months of 2017, which demonstrates the key role CDT will play in achieving the Green Growth2. The EIA's projections below illustrates how CDT and its piers have traditionally relied on coal as their primary fuel source and now must pivot to execute the vision of Party leaders by utilizing cleaner natural gas and renewable sources in the next five years3.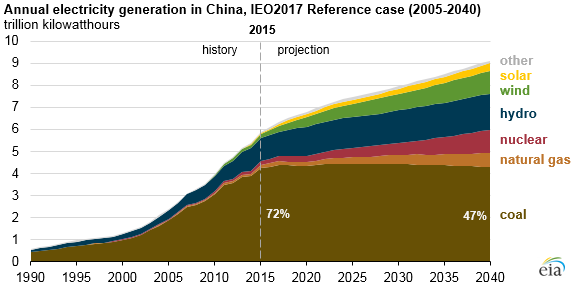 The drive for additional renewables in China's energy mix is not new, the 12th Five-Year Plan targeted 11.4% non-fossil fuel production in the energy mix by 2015, but the 13th plan's extension to 15% by 2020 will require ambitious investment by the state's electricity SEO's and CDT in particular4. Management has already began executing this vision through two actions – increasing its utilization of its natural gas infrastructure by importing more LNG from Russia and Australia and locally sourcing wind turbines and solar panels which has fed an already booming green manufacturing industry in the region.
Imports of LNG from both Russia and Australia have been increasing – as evidenced by a 51% increase in Chinese imports of LNG from Australia in the first eight months of 2017 and the Chinese signing supply contracts for off-take of Russian LNG produced in the new Yamal facility in Siberia5,6. CDT has capitalized on this increased gas supply by increasing gas thermal plant electricity production 6.3% over the course of the first nine months of 20172.
CDT has also augmented its wind production by 18.4%, mimicking the country-wide increase of 25.7% in the first 9 months of 20177,8. Because logistical challenges associated with shipping the large nacelle and blade components of the turbines encourage local manufacturing, Chinese wind turbine manufacturers have rapidly ascended global rankings and count among its members five of the top 10 largest manufacturers in the world, including the largest, Goldwind8. This phenomenon represents another Pillar of the 13th Five-Year Plan, Innovation, which looks to have Chinese manufacturing companies participate higher in the manufacturing value chain. CDT and its electricity generating SEO competitors continue to attack the challenges set out by Five-Year Plans through shifting their energy mixes towards LNG imports and locally manufactured wind and solar.
As CDT management needs to also implement grid improvements to ensure that the renewable energy being produced makes it to consumers. In its annual report, CDT Renewables noted that curtailment of its wind production increased to 21.2% in 2016 (for reference, US wind plants expect 1-3% curtailment when they are built), which thrashes the economic viability and negates the environmental impacts of clean energy production7. Investment in grid infrastructure in the form of additional transmission lines to windy regions in the east and south of China are clearly required for CDT and China at large to realize the positive impacts of the Green Growth.
As the water and air in China continue to clear thanks to cleaner energy production and manufacturing practices, the resolve of the Chinese Communist Party will be tested. A real question for CDT and China at large will be, when the immediate health interest of the Chinese people no longer requires serving, will the aim to continue green development persist? On the other hand, is it fair for developed nations like the US to expect developing countries like China to make uneconomic decisions about energy production in the interest of global warming when those developed nations were unscrutinized when largely causing the issues we face today? (799 words)
1Koleski, Katherine. "The 13th Five-Year Plan." United States Government Publishing Office, 14 Feb. 2017. https://www.uscc.gov/sites/default/files/Research/The%2013th%20Five-Year%20Plan_Final_2.14.17_Updated%20%28002%29.pdf. Accessed November 2017.
2China Electricity Council. "January-September 2017 Power Industry Operation Profile." CEC, 10 Oct. 2017, http://www.cec.org.cn/guihuayutongji/gongxufenxi/dianliyunxingjiankuang/2017-10-20/174187.html. Accessed November 2017.
3Energy Information Administration. "Chinese coal-fired electricity generation expected to flatten as mix shifts to renewables." EIA, 27 Sept. 2017. https://www.eia.gov/todayinenergy/detail.php?id=33092. Accessed November 2017.
4Shen, Wei. "The Role of Business in driving and Shaping Renewable Energy Policies in China." 10:15 (January 2016). Institute of Development Studies. https://www.researchgate.net/publication/292144496_The_Role_of_Business_in_Driving_and_Shaping_Renewable_Energy_Policies_in_China#pfb. Accessed November 2017
5Novatek. "Yamal LNG." PAO Novatek, 2017, www.novatek.ru/en/business/yamal-lng/. Accessed November 2017.
6Russell, Clyde. "Political headaches as China sucks up Australian coal, LNG." Reuters, September 14, 2017. https://www.reuters.com/article/column-russell-coal-lng/column-political-headaches-as-china-sucks-up-australian-coal-lng-russell-idUSL4N1LV27F, accessed November 2017.
7China Datang Corp Renewable Power. 2016 Annual Report. http://quote.morningstar.com/stock-filing/Annual-Report/2016/12/31/t.aspx?t=XBER:DT7&ft=&d=50cf798e2a3a2b2620227cd5a60ef104. Accessed November 2017
8Cusick, Daniel. "Chinese Wind Turbine Maker Is Now World's Largest." Scientific American, 23 Feb. 2016, www.scientificamerican.com/article/chinese-wind-turbine-maker-is-now-world-s-largest/. Accessed November 2017.
9International Gas Union. "2017 World LNG Report." https://www.igu.org/sites/default/files/103419-World_IGU_Report_no%20crops.pdf. Accessed November 2017.