To Axie Infinity and beyond!
Interactive game, blockchain network and source of income for many.
Axie Infinity is an interactive game, built on the Ethereum blockchain, where players buy digital creatures (Axies) as non-fungible tokens (NFTs). Players can use these creatures to breed, battle and ultimately trade them. These Axies can have different attributes and skills that dictate the battles, similar to Magic the Gathering.
Value creation.
But Axie Infitinity isn't just a plain old game, the platform incorporates its own currency, its own market, and its own stock exchange. Thus, Axie is able to create value in several key ways:
Entertainment, earning money, creating businesses.
Playing Axie Infinity has allowed people from countries such as Vietnam and the Philippines to leave their jobs and earn more money by playing Axies Infinity, earning Ethereum tokens, and exchanging them for their local currency.
Since new joiners will need around $195 to start playing (through opening a crypto wallet, and buying the minimum number of Axies), people have started scholarship and loan programs that would cover the initial starting costs for whoever cannot afford the initial costs. These people would usually charge a percentage of future token earnings.
Value capture.
The essence of Axie Infinity's value capture is in the fees that are associated with in-game operations. As you can see from the chart, the main sources of revenue come from marketplace fees and 'breeding' fees. The idea of 'breeding' Axies is influenced by the hope of achieving a more valuable Axie with rarer attributes. This is what drives players to spend money on 'breeding' their Axies – the platform gives the players a structure to create new NFTs that can be hyped by the gamers' ecosystem.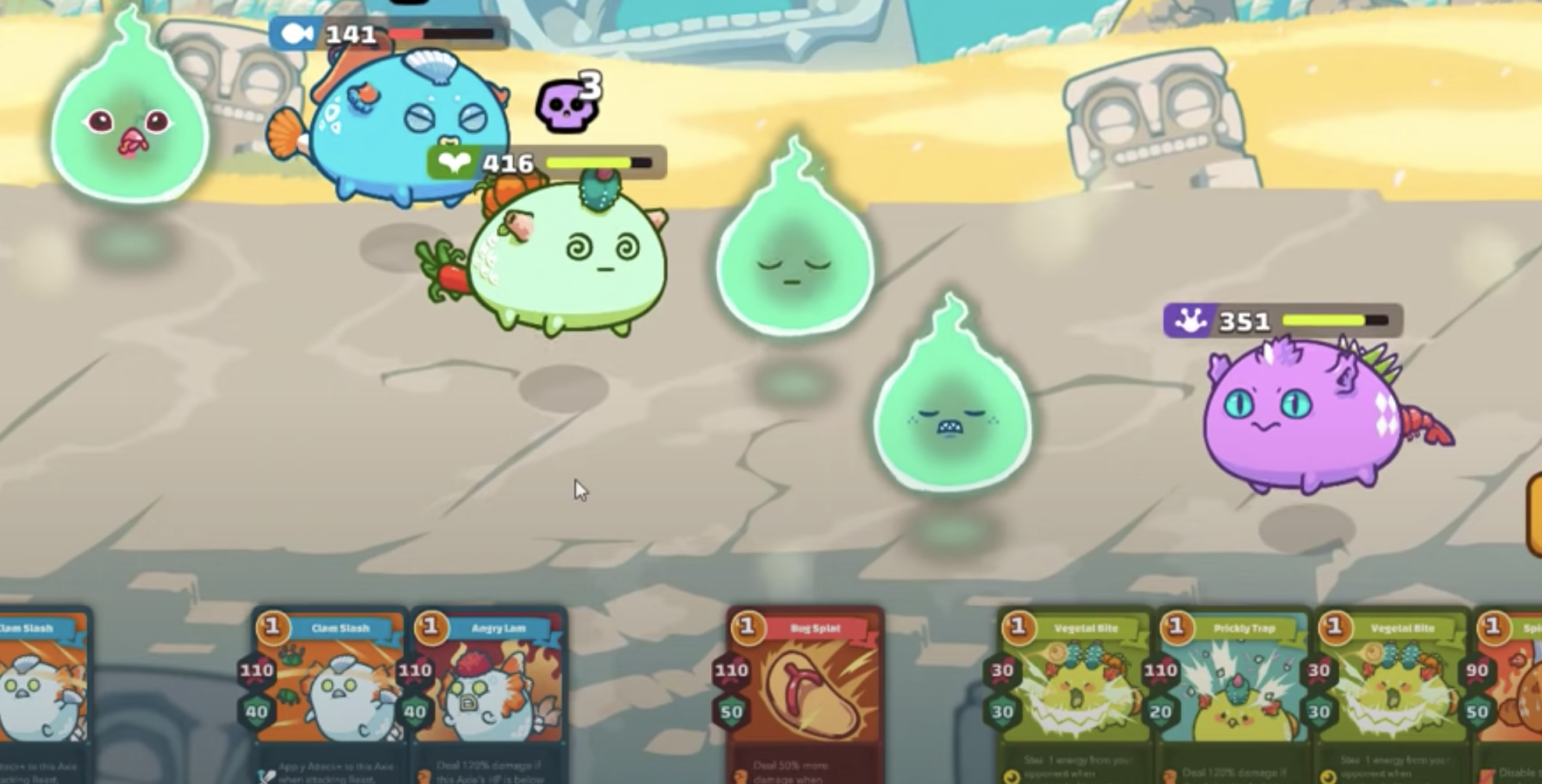 Scalability.
Axie Infinity's scalability strongly relies on the scalability of Ethereum, which is known to have some problems. Ethereum's 15 transactions per second limitation means that during peak processing hours, transaction time and cost goes up. This could make it complicated for Axie Infinity to scale, depending on how costly their operations become and how the Ethereum blockchain will evolve.
Sustainability.
Axie Infinity has passed possibly the biggest barrier facing any new 'hype' game or any crypto project: Maintaining core users and surviving the fad phase. But even though the platform has thus far achieved impressive growth, sustainability in the crypto sphere is totally unpredictable. Currently, only 14% of the total players are buying Axies (AXS), the native token of the Axie Infinity platform. More than 9% of the players have sold their AXS, and less than 5% of the players have ever bred Axies. In addition to these, less than 5% of those that do breed continue breeding in consecutive months. Could this suggest that players are only interested in the money-making part of the game? It seems as though Axie Infinity needs to continue building its ecosystem and developing network effects in order to increase the performance of these metrics. Even if they manage to improve the engagement with their in-game token and breeding mechanics, they can still become of massive drawdowns associated with crypto.
Sources:
https://www.yahoo.com/now/trend-axie-infinity-raises-sustainability-101021433.html#:~:text=Axie
https://www.bloomberg.com/news/articles/2021-08-25/axie-infinity-how-game-is-turning-pandemic-jobless-into-crypto-nft-traders
https://www.axieworld.com/en/economics/charts?chart=revenue
tokenist.com/explained-ethereums-scalability-problems-and-growing-backlash/