Medical Realities: Transforming Medical Training through VR
With VR still in its infancy, one cannot help but wonder how this technology is about to change and disrupt our world. MR is on a mission to democratize medical training.
Medical Realities: Transforming Medical Training through VR
With VR still in its infancy, one cannot help but wonder how this technology is about to change and disrupt our world. While the AR/VR applications in gaming and entertainment are exciting, these technologies will touch far greater and more impactful areas of everyday life. One company that is disrupting medical training is London based Medical Realities.
Medical Realities is an educational platform that offers surgical and medical training to people around the world.  The company is on a mission to democratize medical training by making content available to a global audience. Medical procedures are made viewable on consumer VR devices like the Oculus Rift. In April 2016 MR streamed a live surgery in where CMO Dr. Shafi Ahmed conducted a surgery where he removed a tumor from a 70 year old colon cancer patient.
By bringing people directly into an operating theatre in 360 degree views, the viewers experience immersive learning like no other. Not only can they see the actual surgical procedure but they can also see the entire theatre in action. The company plans to partner with world class surgeons and provide interactive content. The interactive nature of the content makes for high quality, yet accessible training. MR creates safe learning environments and opportunities to be exposed to procedure that not everyone would normally have access to.
Value Creation:
Through democratizing medical training content, the company is able to reach a much wider audience making it low-cost and easily accessible for learners.  Medical students will likely have access to procedure much earlier in their training careers than they would normally do and the availability of content in a safe environment and at a controlled pace creates unique learning opportunities.
According to founder Steve Dann, there is a worldwide lack of surgical trained practitioners. He founder Medical Realities to address this gap and allow students to experience the operating theatre through the eyes of a surgeon. Making first class cost-effective training available to the world is incredibly powerful. Imagine less fortunate parts of the world in dire need of surgeons and practitioners, or even more developed countries that face shortages of surgical trained practitioners. The availability of such content will surely help speed up the process of developing surgeons.
The platform provide comprehensive modules that cover key surgical training material. In addition to the 360 degree view of the real-life operation the videos include boxes of information about everything from the roles of staff to the specific medical content of the procedure.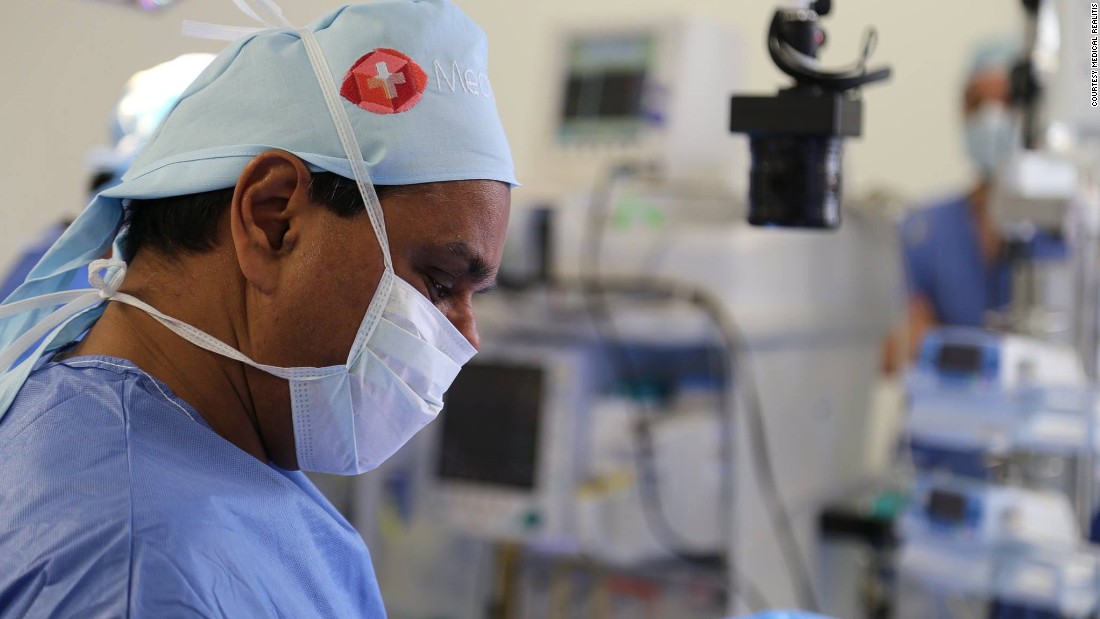 Value Capture:
Medical Realities plans to monetize the content. Currently the company is still in its early stages and has not made a final decision on pricing but the plan is to have both a full subscription to the syllabus and the option to purchase specific modules. The platform is now free in its pre-release stage, and registrants have free access to the first module including a 20% discount on the full subscription once released. Depending on how MR prices the content, at a reasonable price there will definitely be high demand as the alternative would be delayed and infrequent actual exposure or no exposure to surgical procedures at all.
With partnerships with both the NHS and Association of Surgeons in Training, Medical Realities has put itself on the map for next generation medical training. While the challenges will surely be in continuous content creation, but unlike media such content is not intended for quick consumption given that students and practitioners will want to fully absorb each module and practice in real life situations. MR will have the ability to slowly release content as it goes. The main challenge will be in choosing which parts of the extensive surgical curriculum to focus on. I believe data should drive content creation decisions by starting with module that covers the most in demand procedures and slowly moving towards less common ones to impact the largest number of both practitioners and patients.
******************************
https://arstechnica.com/science/2016/04/watch-medical-realities-vr-surgery-live-stream/
https://www.wareable.com/saves-the-day/wearables-connected-hospital-future-5555
https://www.wareable.com/field-of-view/virtual-reality-xbox-scorpio-vr-hints-exclusive-2637
http://www.digitalartsonline.co.uk/news/hacking-maker/whats-happening-in-vr-right-now-from-psychedelic-art-combat-therapy/
http://www.medicalrealities.com/