BrainCo's FOCUS Headband: Brain Scan or Brain Scam?
BrainCo has developed and launched an AI-powered headband that can track users' level of focus and engagement. Market reactions have been mixed with compliments and controversies. Will this mind reader succeed?
Founded in 2015 and incubated in the Harvard Innovation Lab, BrainCo leverages its R&D expertise in artificial intelligence to develop cognitive training technology and brain-based applications in the education, fitness and wellness spaces. The four-year-old company has huge ambitions, as it wants to help customers reach their full potential and benefit the entire human race with its brain-based applications [1]. The first product BrainCo brought to market is an AI-powered prosthetic hand that can mimic the functionality of the human hand with high precision.
Recently however, it was another BrainCo product that has attracted the most media attention. Named FOCUS Headband and launched in earlier 2019, the product is now available in the US and China, and has generated heated debates – and controversies.

(FOCUS Headband launched in early 2019)
What is a FOCUS Headband, and how does it work?
A FOCUS Headband consists of three parts: hardware, algorithm and software. By using its proprietary sensors to detect brain signals and deploying AI algorithm to translate signals into focus levels in real time, the Headband provides insights into the engagement levels of users, and track whether a user is focused or distracted ("daydreaming") [2].
Hardware: The headband contains three patented hydro-gel electrodes and a proprietary electroencephalography (EEG) signal-detecting circuit board. These combined parts can accurately detect electrical brain signals at a resolution precision greater than 1 micro volt [3].
Algorithm: The algorithm has been inspired by NASA technologies and optimized through hundreds of thousands of iterations based on big data [4]. The algorithm defines levels of focus/engagement by automatically assigning a score to any electrical brain signal received and detected by the EEG circuit board.
Software: The proprietary software system functions as an engagement-level data management platform, which could be easily installed on a user's computer or tablet [5].
In a nutshell, a user wears the Headband (hardware), which accurately captures her/his brain signals. The signals would then be analyzed and interpreted by the AI algorithm, which provides a scored assessment of the user's current level of engagement. The assessment information is ultimately sent to the data management platform (software) for the user to adjust her/his working mode accordingly.
Value Creation & Use Cases
"BrainCo's technology is changing the world, from elite sports to education."
BrainCo is highly confident about the market potential of FOCUS Headband, and believe that the product has a variety of use cases.
US athletes were the first adopters of the Headband. In early 2019, the U.S. Olympic Weightlifting Team partnered with BrainCo, adopting FOCUS Headband to monitor their athletes' mental performance state, particularly their ability to stay focused during training and competitions. With helps from the Headband, the weightlifters aim to achieve their peak performance in the 2020 Tokyo Olympics [6].
(4-time U.S. national weightlifting champion Jessica Lucero wearing a FOCUS Headband during training)
Formula Medicine is another early adopter of FOCUS Headband. Formula has been primarily engaged in medical and athletic assistance of drivers of motor sports for more than 25 years. Earlier this year, Formula tested FOCUS Headband against the EEG headband they had been using, and found FOCUS headband more accurate, versatile, and easy-to-use [7]. Subsequently, Formula integrated the Headband into their driver training program to receive more precise feedback on drivers' engagement levels, and achieve optimized training results.
BrainCo is also in talks with companies from the automotive & transportation industry (drivers), hospitals (doctors and nurses), as well as the construction sector (construction workers) to explore opportunities for a wide adoption of the Headband. The company is hopeful that the Headband will soon revolutionize the way people in different sectors and occupations understand their mental state and improve work efficiency.
BrainCo's biggest bet, however, is on the education sector. Their inspiration for applying FOCUS Headband to education came from the CEO's own experience of seeing so many school children in China suffer from long study hours but failing to achieve good grades because they can't focus properly [8]. Born and raised in China, the CEO knows too well that the Chinese tiger parents would be very willing to invest in their children's education to help them stay ahead amid fierce competition [9].
Challenges & Controversies
FOCUS Headband entered China shortly after its launch. The general public responded immediately, which turned into a social media storm as pictures emerged showing kids wearing the Headbands in classroom.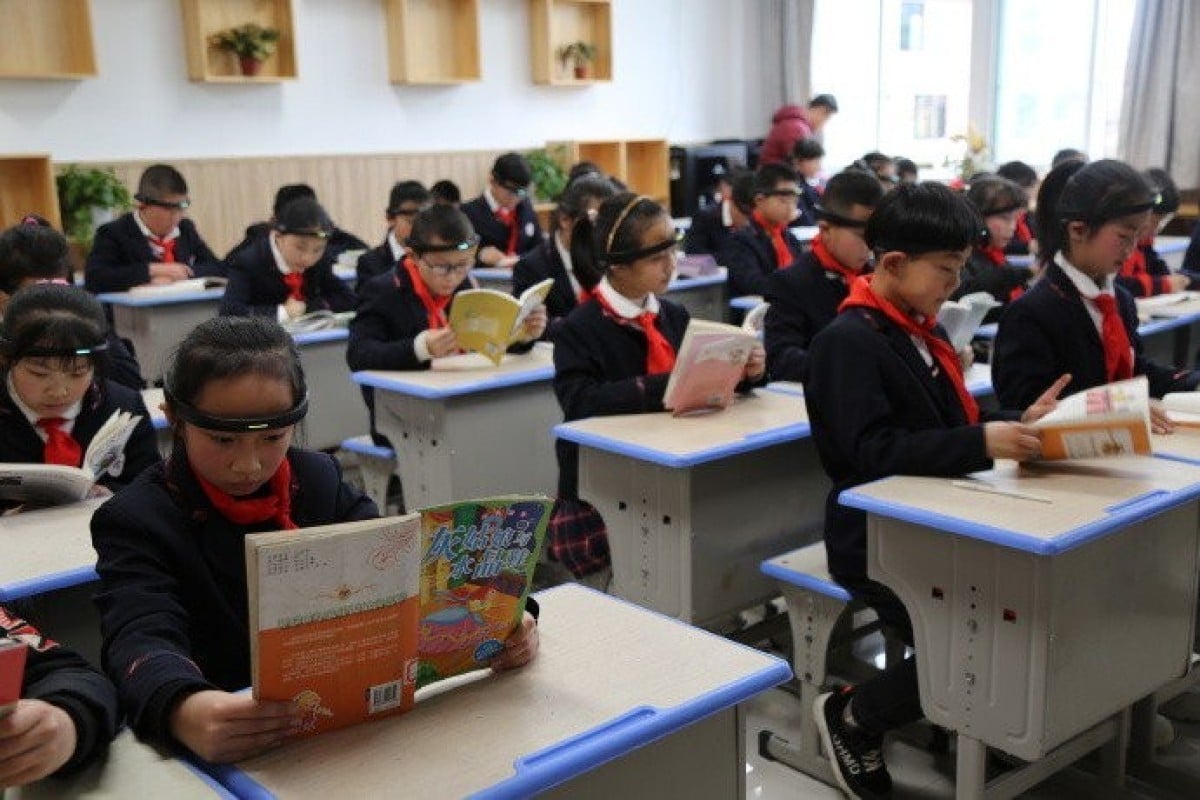 (Students at a middle school in China's Zhejiang Province Wearing FOCUS Headband in Class)
In particular, the company received massive criticism from netizens, who thought it unacceptable to use AI technology to monitor whether students focus in class. Some furious netizens even initiated "Boycott BrainCo, boycott FOCUS Headband" campaigns on social media [10].
"What did these children do wrong to deserve this life of constant surveillance?"
"It boggles my mind that we cannot put ankle bracelets on pedophiles but it is astonishingly easy to put headbands on these powerless kids."[11]
Recommendations & What's next?
The ongoing PR crisis and reputational damage were unexpected from BrainCo's perspective, and have posed the biggest challenge for the fledgling start-up. To tackle the existing challenges and achieve a successful turn-around in the Chinese market, I recommend that BrainCo do the following:
Suspend mass marketing in China. The more publicity generated now, the more backlash would likely to ensue.
Focus on its key customers, especially those corporate and national sports team partners in the U.S., while striving to improve the product further. FOCUS Headband has been in market for less than a year, and customer testimonials are still far from sufficient to make the brand trustworthy. Gather as many positive feedbacks as possible to establish credibility.
Adjust entry & distribution strategy in China: instead of going directly into trial testing, BrainCo should team up with local governments and educational authorities which are willing to learn more about FOCUS Headband, and jointly promote the Headband in selected schools.
Offer discounted pricing to initial customers: currently the Headband is priced at ~US$600, which seems slightly beyond the budget of average Chinese parents [12]. Offering free trials and discounts will help lower the adoption barrier for customers.
What do you think about FOCUS Headband? If you were a parent who care deeply about your children's academic performance, would you purchase it for them? Would you try the Headband yourself?
Sources
[1] "BrainCo CEO says his 'mind-reading' tech is here to improve concentration, not surveillance."
https://www.scmp.com/tech/innovation/article/3008439/brainco-ceo-says-his-mind-reading-tech-here-improve-concentration
[2] 《监测学生上课注意力!"脑机接口头环"引发舆论热议》
http://games.sina.com.cn/g/g/2019-11-02/icezzrr6716606.shtml
[3] BrainCo company website – Technology
https://www.brainco.tech/technology/
[4] Ibid
[5] Ibid
[6] BrainCo company website – Use Cases
https://www.brainco.tech/use-cases-new/
[7] Ibid
[8] "BrainCo CEO says his 'mind-reading' tech is here to improve concentration, not surveillance."
https://www.scmp.com/tech/innovation/article/3008439/brainco-ceo-says-his-mind-reading-tech-here-improve-concentration
[9] "In Chinese schools, brain-reading headbands measure student focus."
https://futurism.com/the-byte/chinese-schools-testing-headbands-measure-student-focus
[10] "AI headbands tracking student attention levels suspended amidst online controversy"
http://en.people.cn/n3/2019/1101/c90000-9628768.html
[11] "BrainCo CEO says his 'mind-reading' tech is here to improve concentration, not surveillance."
https://www.scmp.com/tech/innovation/article/3008439/brainco-ceo-says-his-mind-reading-tech-here-improve-concentration
[12] FOCUS Headband product page at JD.com https://www.jd.com/pinpai/419008.html