The Times are Changing…
Can a newspaper company adapt to a world without paper? Can the New York Times last in a time of digital revolution?
The Challenge facing The New York Times
Perhaps no industry has been more radically shaken by digital transformation than the newspaper business and no company has felt the pressure of change more than the "paper of record" since 1851, The New York Times.  For generations newspapers were the primary source of news.  The consumption of news and the value proposition offered by a newspaper was quite simple:  Consumers had an extremely limited ability to connect with people across the world and to understand all the possible events that were taking place. Newspapers solved this problem by sending the best journalists around the world to gather news, combining all the world's stories into one easily digestible paper that landed on the doorsteps of readers every morning.   This operation required sophisticated distribution networks, large coordinated newsrooms and the best journalists in the country.  These large costs were offset by reader subscriptions and advertisements placed throughout the paper.  But, the advent of the internet radically shocked the way people consume information.
Today consumers can access information and news in real time from countless sources.  Who needs a reporter to tell you about a protest when you can simply live stream the events on youtube?  We now live in a world of 24 hour tv news coverage, facebook newsfeeds from friends, snapchats of buzzer-beaters and tweets from presidents.  And with this shift in consumer behavior, print news media has seen revenue and profits spiral downwards as advertisers rethink the best ways to influence and connect with consumers. (1)  Print advertising revenues fell from nearly $50B in 2005 to only $19B by 2012.  In 7 years, roughly 60% of the industries core revenue disappeared.   And though digital advertising grew from $2.6B to $3.3B, total advertising spending still fell by over 50%. (2)  So with Advertising revenue seemingly evaporating, how can The Grey Lady of the past stay relevant in this vibrant digital future?
U.S. News Media Statistics 
The Response
                The New York Times fully believes that its future viability as a business depends on its digital strategy.(3)  Since 1996 the New York Times has had a presence on the web and since 2011 the Times has utilized a pay wall.  By 2015 over a million consumers subscribed to the New York Times online, but the Times new that more needed to be done to save their business.(4) On October of 2015 the Times unveiled a plan to double its $400 million in digital revenue to $800 million by 2020.   This plan outlines many initiatives that are needed for success, but focuses mainly on three key objectives: obsessive focus on the user experience, a continued commitment to best in class journalism and innovative digital advertising partnerships.   Unlike other new outlets that focused on attracting as many unique users as possible with hopes of increasing ad revenue, the Times views its future as resting on the backs of highly loyal and engaged subscribers. As CEO Mark Thompson noted:
"Our unique business model depends on a deep relationship with our most engaged readers. Twelve percent of our digital readers deliver 90 percent of our total digital revenue. To double our digital revenue, we need to more than double the number of these most loyal readers…..  Many of our competitors focus primarily on attracting as many uniques as they can with a view to building an advertising-only business. We see our business as a subscription service first, which requires us to offer journalism and products worth paying for. Our focus on quality and a deep engagement with readers is also a competitive advantage in advertising, which at its best is driven by unique consumer insight and superior creative work." (4)
But how successful has this plan actually been?  The Times has been hemorrhaging revenue and profit for nearly a decade and its overall revenue is still heavily dependent on print… a business that is rapidly dying.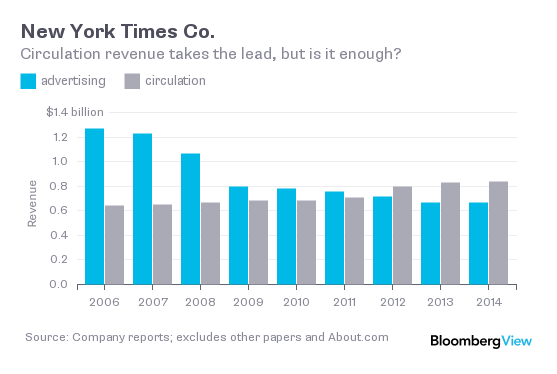 Source:  2014 New York Times "Innovation Report" (5)
Future Growth – Readers are an untapped asset
The industry head winds are incredibly daunting for the New York Times.  The Times strategy of providing best in class journalism and continuing to enhance the user experience by adapting content for mobile and tablet use are good ideas, but I fear it is not enough. Digital subscriptions simply can't grow fast enough to make up for the dramatic loss of print advertising revenue. The largest untapped asset the Times has is its massive community of readers.  The Times needs to think creatively about potential ways to increase interaction between community members and ways to make the consumption of news a less passive activity.  New York Times readers are smart and opinionated.  An opportunity exists to activate this community as a social network enhancing the user experience and increasing user engagement, which will attract advertising revenue.
(Word Count 794)
Sources: