Is the world on the cusp of an electric vehicle revolution? Volvo thinks so.
The Swedish automaker has announced that all new Volvo models will sport an electric motor by 2019.
Reacting to Climate Change
Increasing awareness of global climate change caused by human activities has catalyzed the rapid development of electric vehicles. The Netherlands has passed legislation to ban the sale of conventional cars with internal combustion engines (ICEs) by 2025[i] and Germany has followed suit with a ban by 2030[ii]. Even less developed nations India and China are contemplating a similar electric vehicle-only mandates[iii].
Electric Vehicles Are the Future
Electric Vehicles are an important means to reduce the impact of climate change because they contribute no direct carbon emissions and are typically produce fewer life cycle emissions than do conventional vehicles[iv]. This benefit is further amplified if power is generated by renewable sources like solar or wind.
Sales of electric vehicles are expected to grow significantly to over 60 million vehicles by 2040, and overtake those of conventional ICE vehicles by 2038[v], as shown in Figure 1. Additionally, the cost of electric vehicles is expected drop below that of conventional ICE vehicles by 2025[vi].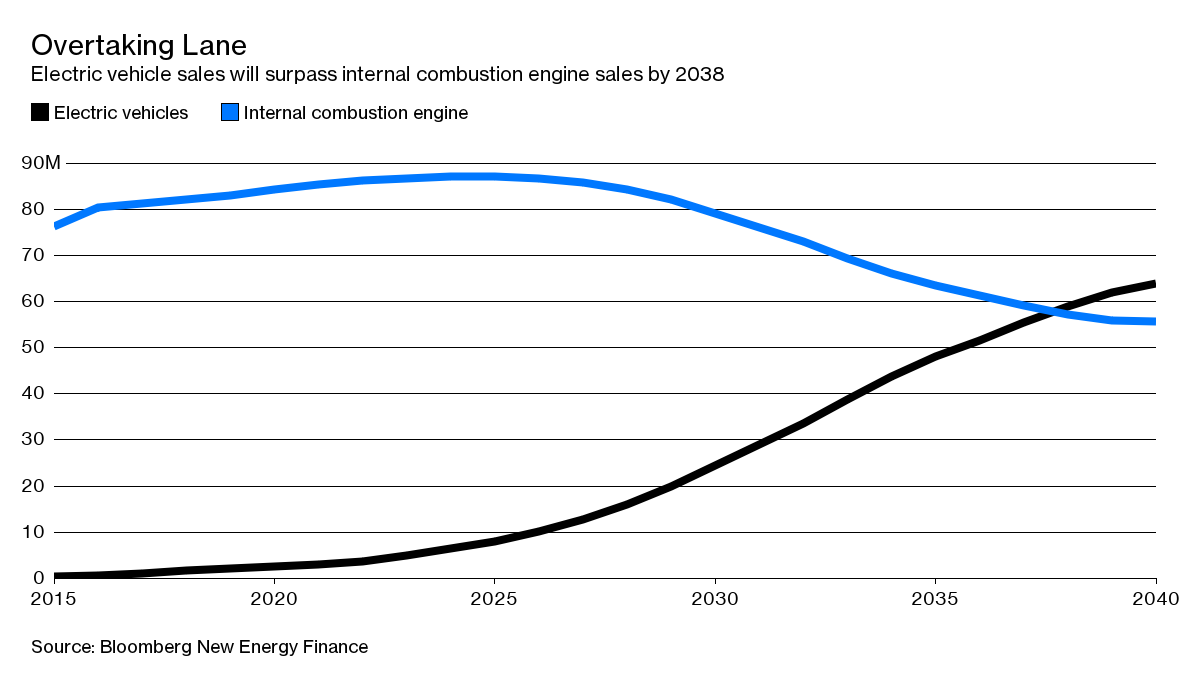 Figure 1: Sales of Electric and Internal Combustion Engine Vehicles (Bloomberg New Energy Finance)
Volvo's Ground-breaking Announcement
In July 2017, Volvo announced that "every Volvo it launches from 2019 will have an electric motor"[vii]. Volvo is the first of the conventional automobile manufacturers to electrify their business model, and has garnered the company substantial positive press coverage for doing so. In the short-term, this move has allowed Volvo to focus their limited R&D budget on electric vehicle technology. Over the next decade however, this transition will allow the company to gain market share from the leading electric vehicle manufacturers Tesla and BYD.
Impact on Volvo's Supply Chain
The disruption caused by electric vehicles will send a ripple through the entire automotive supply chain. The impacts of electrification on the Volvo's automotive ecosystem are as follows[viii]:
Automakers: Volvo must quickly produce a competitive electric vehicle, and has recently announced that its first electric offering will be the 2019 release of the XC40 small SUV. The company will have to forge new partnerships to ensure that their products have the latest in battery and user experience technology.
Suppliers: Current suppliers that focus on the drivetrain (engine, transmission, drive shafts and differentials) will no longer be relevant once Volvo completes the shift to electric vehicles.
Dealers: Since electric vehicles have fewer moving parts than conventional ICE vehicles, less maintenance is required. Volvo dealers will have to adjust to significantly lower service-related revenues.
End Customers: As electric vehicles become more common customers will begin to think of their vehicle as a computer on wheels. As such, they will demand the latest innovations in technology such as self-driving autopilot and Volvo will be forced to continually innovate.
How Can Volvo Stay Competitive?
1. Leverage partnerships to advance self-driving technology
The future of automotive transportation may not involve a human driver. Multiple companies from both the automotive and technology sectors are currently pursuing self-driving technology. While Volvo has partnerships with both Uber[ix] and Nvidia[x], additional partnerships will be required to keep up with the pace of self-driving technology.
2. Lock in long-term lithium contracts
Lithium is a necessary component for the lithium-ion battery that powers electric vehicles. Analysts are now concerned about whether the supply of lithium can keep pace with the growing demand. Volvo should enter into agreements to ensure that lithium supply does not limit their growth aspirations.
Food For Thought
As the demand for electric vehicles grows, do conventional automakers like Volvo have any competitive advantages compared to current electric vehicles leaders Tesla and BYD? Do you think that Volvo made the right decision by fully transitioning to electric vehicles before any of their competitors?
(word count: 780)
 References
[i] "The Netherlands Will Ban New Gasoline-Powered Vehicles By 2025", Fast Company (2016) https://www.fastcompany.com/3058649/the-netherlands-will-ban-new-gasoline-powered-vehicles-by-2025
 [ii] Schmitt, B. "Germany's Bundesrat Resolves End Of Internal Combustion Engine", Forbes (2016) https://www.forbes.com/sites/bertelschmitt/2016/10/08/germanys-bundesrat-resolves-end-of-internal-combustion-engine/#84cdaad60bd8
[iii] Condliffe, J. "China and India Want All New Cars to Be Electric", MIT Technology Review (2017) https://www.technologyreview.com/the-download/608839/china-and-india-want-all-new-cars-to-be-electric/
[iv] "Reducing Pollution with Electric Vehicles", US Department of Energy (2017), https://energy.gov/eere/electricvehicles/reducing-pollution-electric-vehicles
[v] Shankleman, J., "The Electric Car Revolution is Accelerating", Bloomberg (2017) https://www.bloomberg.com/news/articles/2017-07-06/the-electric-car-revolution-is-accelerating
[vi] Shankleman, J., "Pretty Soon Electric Cars Will Cost Less Than Gasoline", Bloomberg (2017) https://www.bloomberg.com/news/articles/2017-05-26/electric-cars-seen-cheaper-than-gasoline-models-within-a-decade
[vii] "Volvo Cars to go all electric", Volvo USA (2017) https://www.media.volvocars.com/us/en-us/media/pressreleases/210058/volvo-cars-to-go-all-electric
[viii] "Electric Vehicle – Disruptor of the Automotive Ecosystem", Infosys (2017) https://www.infosys.com/industries/automotive/white-papers/Documents/disruptor-automotive-ecosystem.pdf
[ix] "Volvo Cars and Uber join forces to develop autonomous driving cars" Volvo Car Group (2016) https://www.media.volvocars.com/global/en-gb/media/pressreleases/194795/volvo-cars-and-uber-join-forces-to-develop-autonomous-driving-cars
[x] Etherington, D. "Volvo and Autoliv aim to sell self-driving cars with Nvidia AI tech by 2021", TechCrunch (2017) https://techcrunch.com/2017/06/26/volvo-and-autoliv-aim-to-sell-self-driving-cars-with-nvidia-ai-tech-by-2021/