General Motors Tackles Climate Change by Talking About It
Is the first step in addressing climate change simply admitting there is a problem? GM thinks so. The Company confessed its fossil fuel emissions issue years ago and has proactively tackled the difficulty by making the painful decision to self-report emissions for not only its vehicles but its entire supply chain. Transparency today should lead to tangible results going forward.
Secular Trends Affect GM as Consumers Move Away from Traditional Gas-Guzzling Vehicles
Governments, markets, and consumers have put tremendous pressure on all automotive companies to make vehicles more fuel efficient and ween dependence on gasoline. The speed of adoption among consumers will be determined by the "pull" factor of car buyers and the "push" factor of regulatory agencies[i]. Per estimates from the International Energy Agency, the secular trend towards electric vehicles is rapidly growing, with over 1.2 million electric vehicles in the market as of 2015 – a sharp increase from the less than 200,000 vehicles on the road in 2012[ii].
What is GM Doing to Address the Impact of Climate Change?
GM's approach can be grouped in to two buckets: 1) reporting and publicizing sustainability ("talking the talk"), and 2) implementation ("walking the walk").
Talking the Talk:
Voluntarily reporting carbon emissions to enhance the discussion of climate change
Signing the White House Pledge on Climate Change
Walking the Walk:
Committing to 100% Renewable Energy for its 350 facilities located in 59 countries (projects already being completed)
Pricing the Chevy Bolt EV for mass market penetration
Voluntarily Reporting Carbon Emissions to Enhance Discussion of Climate Change Among Public Companies. By championing the disclosure of emissions, GM was named to the global Climate A-List by the Carbon Disclosure Project ("CDP"), a global nonprofit committed to sustainable economies[iii]. This recognition on the A-List is held by less than 10% of companies participating in CDP's climate change initiative[iv]. GM believes there is not only a benefit to the bottom line but also a social necessity in addressing climate change.
Signing the White House Pledge on Climate. GM was also among the first 13 companies to sign the White House American Business Act on Climate Pledge. Signers of the pledge state their ongoing commitment to climate change, support for COP21 Paris negotiations, and hope that other companies will join in addressing climate change[v].
100% Renewable Energy Goal. By 2050, GM is expected to meet the electricity needs of its global operation with renewable energy. While this has important obvious climate change benefits, the pledge will also benefit shareholders: renewable energy offers significantly more stable pricing than volatile fossil fuels, which will drive cost savings. To date in 2016, GM has saved $73 million via its renewable energy initiatives[vi]. Additionally, GM is innovating with concepts like using retired Chevy Bolt EV batteries (of which 80% of the battery storage capacity remains) to power GM office buildings in Michigan (see plant below) [vii].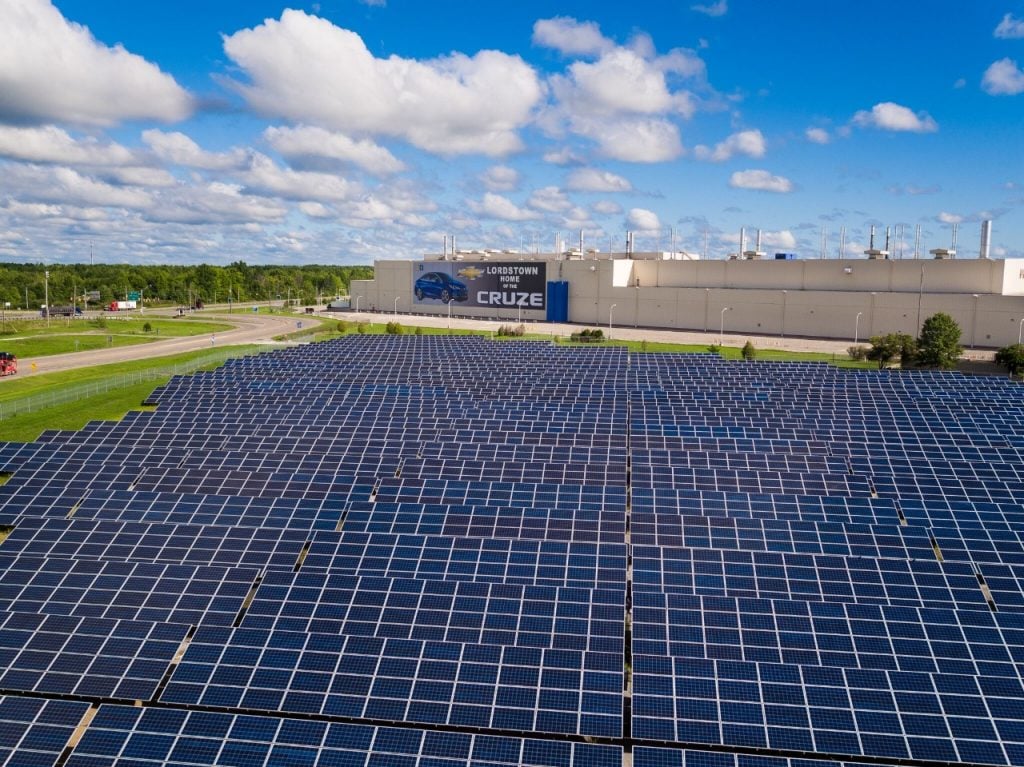 Mass Appeal of the Chevy Bolt EV. The most tangible aspect of GM's sustainability approach is making a vehicle that people can afford. The marquee vehicle in GM's sustainability efforts is the Chevrolet Bolt EV, which has an EPA-estimated range of 238 miles per charge and 119 miles per gallon equivalent. With an MSRP ranging from $30,000 (after federal tax credit), GM is pricing the vehicle affordably enough to gain mass market penetration while delivering on specs and performance[viii].
What More Can GM Do?
As one of the most prominent companies in America and the world, GM must do a better job of engaging its counterparts in the automotive supply chain and its automotive competitors to join the discussion on climate change. Neither Ford nor Chrysler signed the Obama Administration Pledge on Climate Change. Additionally, Ford did not make the CDP A-List in 2016. Many of the large parts suppliers, dealerships, and materials producers are either not ignoring climate change or not doing enough to address it.
Therefore, GM must re-define what it means to be in the automotive industry. The future of the automotive industry must be green, renewable, and sustainable. For the entire industry to implement change, GM needs to quantify the positive impacts of sustainability on its market capitalization, brand reputation, and employee retention. Convincing the industry that sustainability is not only morally imperative but also generates shareholder value will lift the entire industry to even greater success in the future.
(Words: 720)
Sources:
[i] McKinsey Report Disruptive trends that will transform the auto industry http://www.mckinsey.com/industries/high-tech/our-insights/disruptive-trends-that-will-transform-the-auto-industry
[ii] International Electric Agency Global EV Outlook 2016: Beyond one million electric vehicles https://www.iea.org/publications/freepublications/publication/Global_EV_Outlook_2016.pdf
[iii] CDP Climate Change Report 2016: https://b8f65cb373b1b7b15feb-c70d8ead6ced550b4d987d7c03fcdd1d.ssl.cf3.rackcdn.com/cms/reports/documents/000/001/228/original/CDP_Climate_Change_Report_2016_Web_Pages.pdf?1477406073
[iv] GM Gets Perfect Climate Change Disclosure Score from CDP http://www.generalmotors.green/product/public/us/en/GMGreen/home.detail.html/content/Pages/news/us/en/gm_green/2015/1116-cdp.html
[v] GM Joins Climate Change Pledge http://www.generalmotors.green/product/public/us/en/GMGreen/home.detail.html/content/Pages/news/us/en/gm_green/2015/0728-climate-pledge.html
[vi] GM Details its 100% Renewable Energy Goal http://www.generalmotors.green/product/public/us/en/GMGreen/home.detail.html/content/Pages/news/us/en/gm_green/2016/details-100-percent-renewable-goal.html
[vii] Used Chevrolet Bolt Batteries Help Power New IT Building http://www.generalmotors.green/product/public/us/en/GMGreen/home.detail.html/content/Pages/news/us/en/gm_green/2015/1116-cdp.html
[viii] Chevrolet Bolt EV Website http://www.chevrolet.com/bolt-ev-electric-vehicle.html
Video Link: https://www.wired.com/2016/01/gm-electric-car-chevy-bolt-mary-barra/