Diesel Gate: Is VW ready to take on yet another emission challenge?
With a damaged reputation from its Diesel emission scandal, can Volkswagen achieve its aspirations in electric car production?
Background: VW Diesel as an alternative to petrol to reduce greenhouse gases
Diesel vehicles are thought to have a smaller carbon footprint than their gasoline-powered counterparts and were thus heavily subsidized by European regulators in their effort to mitigate global warming. In fact, nearly 50% of new cars sold in Germany in 2015 ran on Diesel engines [1]. Although Diesel cars contribute less to global climate change, the European governments soon realized that the local pollution effects of Diesel engines are far worse than those of gasoline due to increased emissions of particulate matter – the main contributor to smog. In recognition of this fact European governments imposed stricter emission targets for Diesel cars. Heavily relying on the production of Diesel cars European car manufactures were under unprecedented pressure to fulfill the new emission targets while ensuring a steady profitable growth.
Volkswagen, the largest car manufacturer worldwide, made global headlines in 2015, when it admitted to having installed "defeat devices" into 11 million Diesel cars worldwide [2]. Those devices would sense if the car was being tested by an official agency and activate equipment that reduced emission. The actual emission on the road could be as much as 40 times as high [3]. Experts estimated that the long-term effects of the increased emissions could lead to more than 1,200 premature deaths in Europe [4]. The total estimated financial impact of the scandal on VW is estimated to amount over 30 billion USD [5] up to date, although the long-term effects are yet to be assessed. Due to a significant demand decay for Diesel cars (Figure 1) over 500 suppliers of VW were forced to stop the production line and build up inventories [6].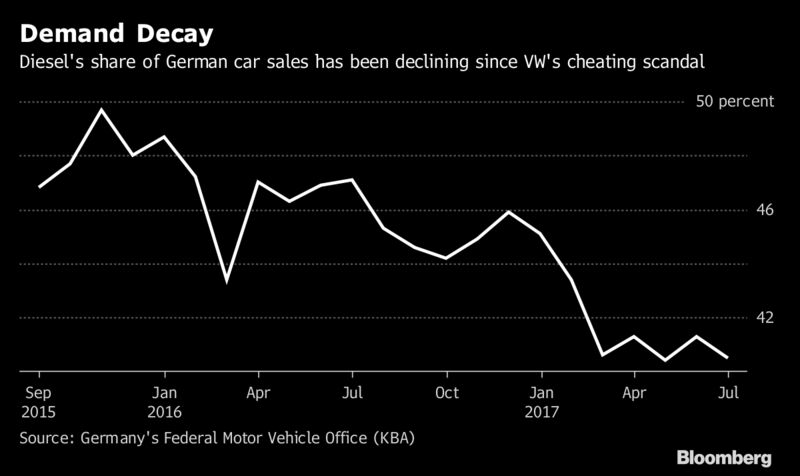 Figure 1: Demand decay of Diesel cars in the German market
Short and long term steps VW has taken
In the short term, VW tried to transfer some of the production risks (unpredictable and declining demand) to its suppliers. It leveraged its strong purchasing power to enter relentless negotiations with most of its suppliers. Among other terms, VW demanded more flexibility of supply, e.g., possibility of unnoticed and uncompensated production stops. Although most of the suppliers were able to accommodate the changes, there were some exceptions. One of VW's major suppliers, Prevent, has caused a production freeze for VW, because it demanded 58 million EUR for factory investments it had made for VW as part of a contract that VW cancelled [7]. As a response to increasing supplier dissatisfaction VW established the F.A.S.T program to intensify collaboration with its suppliers. In this program VW's key suppliers are able to gain full transparency of the VW innovation cycle at an early stage, co-create products, and fully align production schedules [8].
In the long term, VW intends to establish itself as an electrical car manufacturer in order to live up to its promise of lowering its carbon footprint and adhere to emission standards. VW has announced to spend 80 billion EUR to bring 300 electric vehicle models to market by 2030.
Other recommended short and long term steps
Besides VW's efforts to re-establish financial performance by making its supply chain more efficient VW should also focus on re-gaining trust from the automotive industry. For this purpose it is critical that VW creates greater transparency. Until today VW has not made significant efforts to increase transparency into its Diesel car emissions. Also, VW has failed to come up with a mitigation plan for the millions of diesel cars still on the road. VW needs to proactively publish their emission test results for new cars and offer a compensation plan to owners of Diesel cars already on the road to regain customer trust.
Re-installing VW's strong position in the automotive industry will also help VW in the long-term. Shifting the production to electric cars will need significant changes in the supply chain, since the effectiveness and costs of electric cars depend mainly on batteries. First, it needs to establish tight bonds with other car manufacturers to speed up research and development, especially because the German EV industry is falling behind the American and Asian competition. More importantly, the increased purchasing power gained through co-operations with other German car manufacturers will help lower the costs of critical raw materials used in battery production.
Remaining questions
VW has lost credibility in the automotive industry by not being able to comply with emission targets. Although it has slowly started its recovery by strengthening its supply chain, the question remains whether it has enough credibility to lead the upcoming electrification of the German automotive industry.
(759 words)
[1] "Jahresbilanz der Neuzulassungen", Kraftfahrtbundesamt (German equivalence to the U.S. Department of Motor Vehicles), https://www.kba.de/DE/Statistik/Fahrzeuge/Neuzulassungen/neuzulassungen_node.html, March 2017
[2] "Volkswagen Says 11 Million Cars Worldwide Are Affected in Diesel Deception", New York Times, https://www.nytimes.com/2015/09/23/business/international/volkswagen-diesel-car-scandal.html, September 2015
[3] "How Volkswagen's 'Defeat Devices' Worked", New York Times, https://www.nytimes.com/2015/09/23/business/international/volkswagen-diesel-car-scandal.html, September 2015
[4] "Volkswagen's excess emissions will lead to 1,200 premature deaths in Europe", MIT News Office, http://news.mit.edu/2017/volkswagen-emissions-premature-deaths-europe-0303, March 2017
[5] "Volkswagen's diesel scandal costs hit $30 billion", CNN Money, http://money.cnn.com/2017/09/29/investing/volkswagen-diesel-cost-30-billion/index.html, September 2017
[6] "VW and suppliers settle their dispute after marathon talks", Fortune, http://fortune.com/2016/08/23/vw-and-suppliers-settle-their-dispute-after-marathon-talks/, August 2016
[7] "VW plays chicken with supply chain and loses", Forbes, https://www.forbes.com/sites/kevinomarah/2016/08/25/vw-plays-chicken-with-supply-chain-and-loses/#67ad95bc1d89, August 2016
[8] Volkswagen, http://www.vwgroupsupply.com/one-kbp-pub/en/kbp_public/homepage/homepage.html, November 2017