Amazon: The Cycle of Victory
Amazon leverages its superior warehousing and product innovation to drive prices down and purchases up.
Amazon is highly effective in aligning its business model and operating model. Amazon sells a broad range of goods and services, both physical and digital. Although Amazon Web Services (AWS), which enables companies to outsource components of their IT infrastructure and services, represents a significant portion of its business, this post will focus on the consumer e-commerce side of the business.
The Business
Amazon sells goods that it procures from manufacturers/distributors. As would be expected, it makes money by sells those goods to end customers at a (sometimes thin) markup to wholesale prices.
Amazon also provides a marketplace for external vendors to sell their goods alongside Amazon's own goods. Approximately 40% of items sold on Amazon come from external vendors [1]. Amazon retains a percentage of sales ranging from 6-50% of the sales price based on the product category. It collects several other fees from vendors including either a $39.99 monthly subscription fee for "professional" sellers or a $0.99 per item fee for "individual" sellers [2]. Amazon's complete fee schedule can be found here.
Amazon also places little emphasis on short-term earnings. With e-commerce quickly growing yet representing just 7% of total U.S. retail sales in Q1 2015 (see Figure 1), Amazon sees tremendous upside potential to its business and reinvests heavily into growth.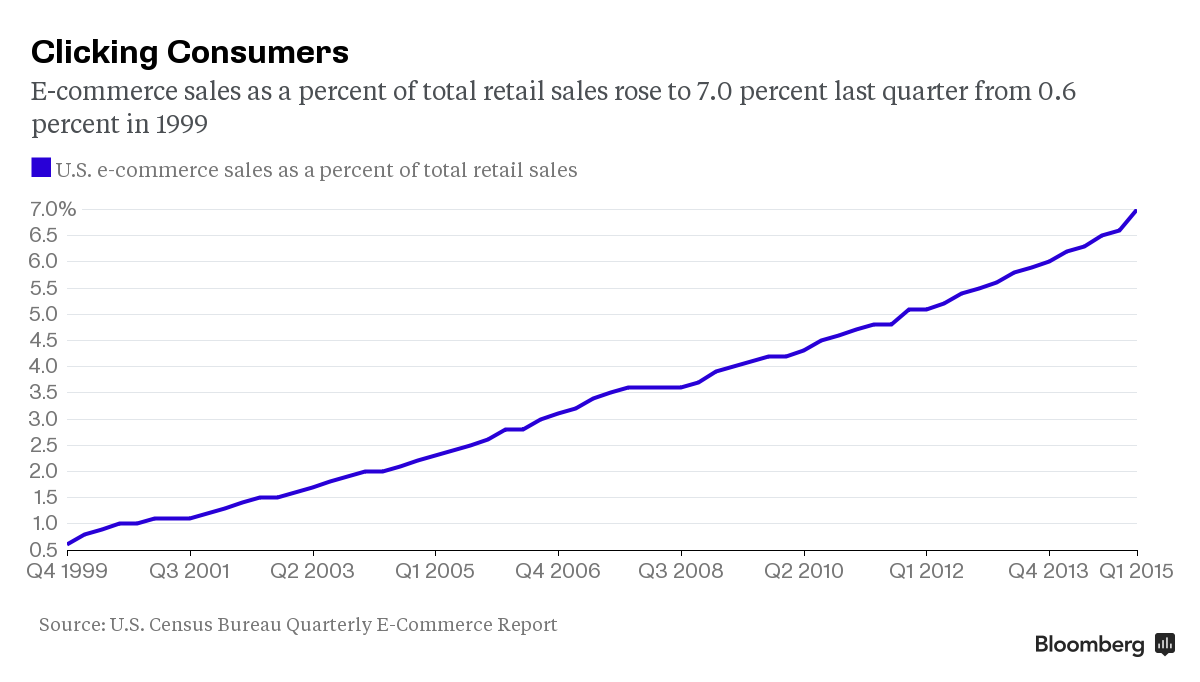 Amazon's business model is dependent on large transaction volume, which is driven by low prices, large selection and superior customer experience.
As shown in Figure 2, growth is core to Amazon's strategy. Amazon creates a virtuous cycle whereby transaction volume provides leverage to negotiate favorable pricing from its manufacturers/distributors. It also justifies broader product selection from Amazon and external vendors.
Fulfillment Centers
Warehousing provides a key operating advantage for Amazon and the company invests heavily to optimize performance in this area. As of the end of 2014, Amazon owned 109 warehouses, called fulfillment centers, globally to store both its own inventory and optionally that of external vendors [1]. The efficiency and strategic geographic placement of Amazon's fulfillment centers allow Amazon to deliver on the low prices and positive customer experiences that are core to executing its business model. Consequently, product selection and transaction volume also indirectly benefit. By being able to efficiently select a customer's items from the shelves of the fulfillment center and get it to the customer's door, the customer can receive his/her purchases sooner. Amazon accomplishes this in part through proprietary software to determine warehouse layout and optimal routes for its warehouse staff [5]. The global distribution of fulfillment centers allows Amazon to cut down on shipping time and costs, which it can pass on to the customer to fulfill its goal of low prices.
Amazon continues to drive towards logistics improvements. It recently launched Amazon Flex, which leverages non-institutional drivers to make deliveries, similar in concept to UberX. Amazon also has ambitions to one day deliver packages via drones. These initiatives have the opportunity to further reduce cost and shipping time. The fulfillment centers also represent a large capital investment, both in PP&E and IP, creating a significant competitive advantage.
Product Innovation
Amazon has made significant efforts to increase sales through the products and user experience it creates.
Amazon has gone to great lengths to minimize friction in the purchasing process. It famously holds a patent for one-click purchasing, making it incredibly easy (and impulsive) for customers to buy through the site. It also offers the Dash button, which allows customers to purchase consumables with the single press of a button even without their laptop or mobile device.
Amazon Prime is a subscription service ($99 per year) that offers free two-day shipping among other benefits. By making shipping a fixed cost for customers rather than a variable cost, Amazon incents its customers to make frequent purchases on its site.
Amazon's line of e-readers, tablets and phones are also intended to drive sales. The devices tend to be priced inexpensively and feature prominent entry points into Amazon's shopping experience. Amazon's strategy is to use its devices as a means to make the Amazon shopping experience front and center.
In summary, through its superior fulfillment centers and product offerings, Amazon is able to provide a wide selection of products at low prices with a strong customer experience, which drives sales. The high sales volumes allow Amazon to negotiate lower prices and invest further in its warehouses and product offerings.
Sources:
[1] Amazon 2014 Annual Report (10-K)
[2] Selling on Amazon Fee Schedule
[3] E-Commerce Sales Are Surging, Jordan Yadoo, May 15, 2015.
[4] Why Amazon Has No Profits (And Why It Works), Benedict Evans, September 5, 2014.
[5] The Everything Store, Brad Stone, 2013.