Vox Media: Journalism is commoditized, technology is not
Investment capital has been pouring into Vox Media over the last couple of years, with the company recently raising $200 million from NBC Universal (owned by Comcast) at a post money valuation of approximately $1B. This is orders of magnitude higher than prices paid even for the previous cohort of "disruptive" digital media companies such as HuffPo and Bleacher Report.
Vox has a strong portfolio of digital editorial brands, including SB Nation, The Verge, Vox, Polygon, Curbed, Eater, and others. Approximately 54% of its users are between the ages of 18 and 34. Comcast views the investment as an opportunity to supplement its core business that has posted declining viewership among younger demographics as a result of their cord cutting and shift to digital media consumption.
But what is the key driver of Vox's historic growth and what has allowed it to start winning in a hyper competitive and seemingly saturated industry? At the heart of the company's success is Chorus, a proprietary content management system.
(read about Chorus in more depth here: https://www.cmscritic.com/singing-the-praises-of-chorus/ and here: http://techcrunch.com/2012/05/07/a-closer-look-at-chorus-the-next-generation-publishing-platform-that-runs-vox-media/)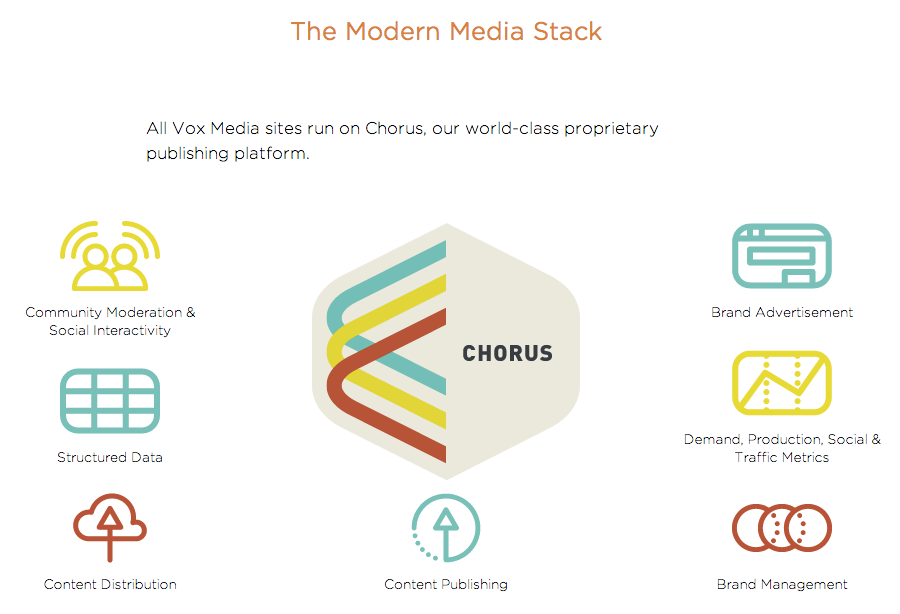 The short version of the above links is that Chorus improves editorial workflow, facilitates content creation and publishing as well as collaboration between product teams and writers, is extremely design focused, and relies on data analytics to inform editorial staffers. Chorus is a technology that is embedded in Vox's digital-first DNA. This is in stark contrast to other media firms (many of which are still transitioning from print to digital) whose content management systems have been built piecemeal over several years and have varying degrees of seamlessness and effectiveness. This is a competitive advantage for Vox, as Chorus turns the company into a platform model for growth. For example, when it acquires a new digital property, it is able to merge all of the new content into Chorus.
Chorus turns high quality journalism into a scale business. It does this by fostering the rapid production of high quality content generation across Vox's thousands of "communities" (take a look at www.silverscreenandroll.com, SB Nation's Lakers specific community). Providing very specific cohorts of users with access to this content drives Vox's value creation model.
Chorus also serves as the backbone for Vox's value capture model. The majority of Vox's revenues are generated from advertising on its various properties. The company recently opened "Chorus for Advertisers" which gives advertisers access to "the same data, workflow, and product technology that has driven astonishing results" for Vox's media brands.
The global advertising market is approximately $250B and 70% of it is brand awareness advertising. The online advertising opportunity is approximately $25B and the vast majority is direct response advertising. Vox will be able to leverage its technology to offer advertisers a truly unique opportunity to build their brands. This is an important differentiator and a strong driver of Vox's current valuation.