Starbucks' secret ingredient: data analytics
Starbucks is one of the largest and best-known companies in the world, with over 27,000 stores and $22 billion in revenue last year[i].  And the secret ingredient to much of Starbucks' success is its innovative use of data analytics.
Data is key to Starbucks, which includes a head of Global Strategy, Insights and Analytics as part of its executive leadership team. According to Starbucks, this function uses "methodologies ranging from ethnography to big data analytics… that helps support Starbucks pricing strategy, real estate development planning, product development, trade promotion optimization and marketing strategy."
A few specific ways in which Starbucks uses data analytics to drive business improvements are:
Real estate decisions
In 2008, Howard Schultz returned as CEO to a floundering Starbucks and had to shut down hundreds of store locations. Moving forward, he insisted that the company take a much more analytical approach in where they place their stores. Now, they use a mixture of "art and science" to ensure their store locations are placed for success.
Starbucks contracts with a location-analytics company called Esri to use their technology platform that helps analyze maps and retail locations. It uses data like population density, average incomes, and traffic patterns to identify target areas for a new store.[ii] Starbucks uses a both local and corporate level approach to new stores. They have 20 analytics experts around the world analyzing maps and geographic information systems data, but also empower regional teams to give input on location, store design, and other issues[iii]. From all of this data, Starbucks can estimate the profitability of a store, and therefore decide whether a new store opening will be economically viable.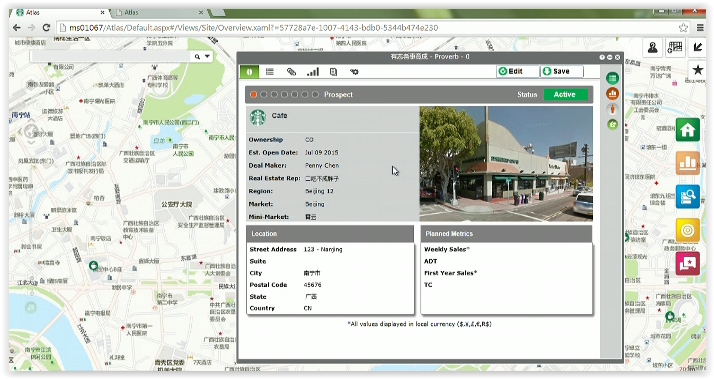 Menu design and optimization
Starbucks also uses data to help align its menu and product lines with consumer preferences. For example, when building out its grocery lines of k-cups and bottled beverages, Starbucks used both data from its stores as well as customer market research to decide which products to create. One finding was that many tea drinkers don't put sugar in their tea, so Starbucks created two unsweetened tea k-cups[iv].
Starbucks is strengthening its ability to use data to drive its menu with its new digital menu boards. Starbucks has started testing digital menu boards in a handful of U.S. locations. The digital boards will allow Starbucks to change which products it features to drive and increase sales strategically. The boards can feature different items based on time of day, weather, and more (i.e. lunch items in the afternoon, cold drinks when the weather is hotter). In theory, the boards can also be used to dynamically change prices throughout the day and season to reflect shifts in demand.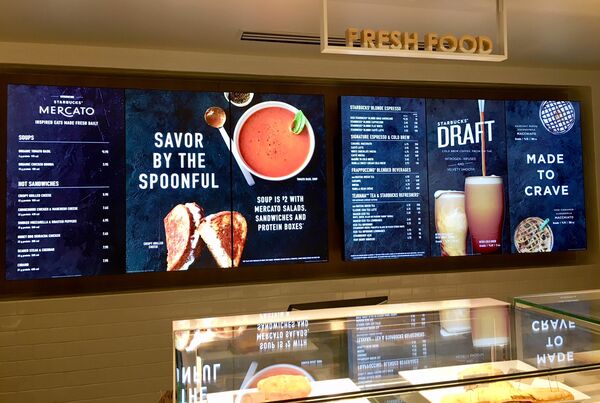 Personalized attention
Though Starbucks uses generally available data to inform its decisions such as store location, its true competitive advantage is its trove of exclusive customer data. Starbucks has more than 14 million people signed up for its Starbucks Rewards loyalty program. Rewards represented 36% of U.S. company-operated sales last year and mobile payment was 29 percent of transactions[v]. Through this, Starbucks can see what specific people are ordering and adjust offerings accordingly. By knowing what loyalty customers are ordering and how often they order it, they can send consumers personalized offers and marketing materials to help drive more sales.
I believe Starbucks' loyalty program will be the key to their continued success moving forward. Though other companies have started to implement data analysis as well, removing Starbucks' advantages from more general sources like Esri, it will be hard for any competitor to build up the amount of data Starbucks has from its 14 million loyalty program members. Starbucks seems to realize this, as it is attempting to grow its rewards program through initiatives like its new Starbucks Rewards Visa credit card.
Sources:
[i] https://s22.q4cdn.com/869488222/files/doc_financials/annual/2017/01/FY17-Annual-Letter-to-Shareholders.pdf
[ii] https://www.forbes.com/sites/barbarathau/2014/04/24/how-big-data-helps-retailers-like-starbucks-pick-store-locations-an-unsung-key-to-retail-success/#f5cecb016dbf
[iii] https://qz.com/334269/what-starbucks-has-done-to-american-home-values/
[iv] https://www.cnbc.com/2016/04/06/big-data-starbucks-knows-how-you-like-your-coffee.html
[v] https://www.cnbc.com/2017/05/04/starbucks-reward-members-can-now-earn-stars-at-the-grocery-store.html